I heard five little words Wednesday that I have been suspecting were coming but kept pushing it out of my mind and telling myself that it wouldn't come to that. No way. No how. Ain't gonna happen. Nope.
Wanna know what those five little words were?
You (meaning me) Need. A. ROOT.CANAL!!
I'm still trying to recover from the shock.
The dentist managed to fill my head with delusions of grandeur by telling me that we probably just needed to fix the filling that had come loose on my left bottom molar and that the pain I'd been experiencing on the top was probably just referred pain from that tooth.
Come again?
"Look, Mrs. Dentist, unless my wiring is all mixed up, I'm having pain ON THE TOP, NOT THE BOTTOM...It's coming from RIGHT THERE!" as I jabbed my finger into my left upper jaw.
She explained to me that "referred pain" is very common and while it can't go from side to side in the mouth, it goes from top to bottom or bottom to top a lot.
"So...does this mean I don't need a root canal?" Because I really, REALLY don't want a root canal!"
And then she whipped out her smartass card and said...
"Oh really? Because I get patients in here all the time just begging for a root canal".
Oh NO she didn't!
She meant to be funny, I know, and normally I'm all for a little wit and sarcastic smartassness but pardon me if my sense of humor is lacking whilst I'm sitting in a dentist chair, wearing a bib, and hearing the words root and canal being tossed around so freely-like.
She had the hygienist
take one more x-ray before I left, by putting that big hard metal thingy majingy that I swear is 3 times too big for my mouth, telling me 15 times to relax, relax, my tongue and forcing me to clamp down, bringing tears to my eyes and some not so nice thoughts and words to my mind.
I left with my little appointment card for March to fix the filling, my prescription for valium
yes, I have to take valium in order to get a filling because I'm a big wuss
and high hopes that this lady knows what she's talking about with this "referred pain" theory crap.
Then Wednesday afternoon comes and I see her office number pop up on my cell.
"Oh crap...oh crap...this can't be good news!"
me: "Hello?"
very friendly dental assistant: "Hello. Is this Diane?"
me: "Umm....yes, yes it is."
dental assistant: "I'm calling to let you know that you need a root canal on that bottom tooth, number 19."
me: "Say what? I'm confused. I'm really confused. That's not what she said. That's not what she said at all. I don't understand. I don't understand..."
We spent the next 10 or 15 minutes on the phone with her frantically going over my chart and trying to explain the goings on of my teeth and the fact that after reviewing my x-ray, I definitely, without a shadow of a doubt, need a root canal on number 19 and then further informing me that she is not entirely convinced that I don't also need one on number 13 as well.
So now I have the address and phone number of some strange endodonist man that I have not yet been able to
bring myself to call.
I'm sure he's a really nice man, just like the friendly dental assistant assured me, but in my mind he is the grim reaper and I may just need to be medicated before I'm able to talk my fingers into dialing his number and making an appointment for him to clip that awesome surgical blue bib on me and "evaluate" my numbers 13 and 19.
Blue bibs and root canals call for some serious retail therapy but since this little endodontic adventure is probably going to end up costing me my firstborn son, I'd better settle for a little fancy web surfing...
Nine West Wedge Pump
I read somewhere, I think in my new Real Simple, that orange is the color of the season and by the season, I'm assuming they meant Spring. I can honestly say that I don't believe I've ever owned a pair of orange shoes but this pair has me wondering what in the world I've been waiting on. I must have a pair of orange wedges! But if orange isn't your cup of tea, they also come in 5 other colors...
Lucky Brand Catalina Hoody
I know a hoody is not typically the first thing that comes to mind when you hear the word 'fancy' but how cute and cheery is this?
Medley of Turquoise Bracelet
Love it.
Time and Time Again Lace Dolman Top
I don't know what it is about lace dolman tops such as this one but I can't seem to walk away from one, or in this case, click away. I like them best paired with a nice pair of jeans.
Citrus Sea Ring
If orange is the color of the season, then this surely must be the ring of the season. According to Sundance Catalog, this stone is a carnelian and here's just a little of what they had to say about it... Many people hold carnelian dear as a stone with the ability to protect the individual, bolster confidence and generally enhance and expand the experiences of life.
I think I need this for my endodontist experience...
Martagon Sketch Halter Dress
I think this dress would look great with a cardigan and a cute pair of wedges or sandals... Hurry up, Spring!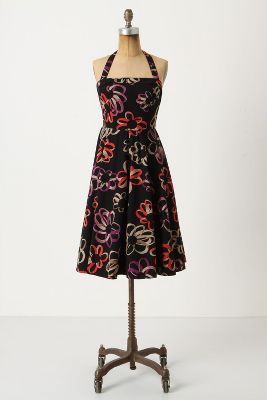 My fingers stopped dead on the keyboard when I came across this top and then I pouted a little when I saw it was out of stock. I am now on the "please notify me when this thing is back in stock" list.
This orange color is really starting to grow on me because I would
carry around this orange bag I found at Banana Republic in a heartbeat.
I'm a big fan of the flowing waterfall hemmed cardigans like this one. I've been eyeing this one for awhile now...I've never seen another one like it anywhere else.
Or how about this one I found at the Loft? LOVE this! I think it would look great with a pair of white capris and some colorful flats.
Nine West Loredana Flats
And speaking of flats, I really need some new ones. I have a couple pairs by Nine West that I've been wearing for I swear 3 or 4 years now and they are just the best combination of cute and comfortable I've ever owned.
I figured, why not go with the 'color of the season' here too? They do, however, come in nine other colors if you still just aren't feeling the orange...including camo. I wouldn't advise going there but to each her own..to each her own...
Y'all have a great day! I must, unfortunately, go place a call to an endodontist.