What is SITS? It's
a group of 10,000 women bloggers supporting one another with lots and lots of comment love. And today I'm being featured. Yes, me!...Little ol' me!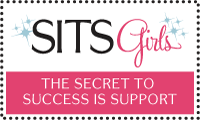 If this is your first time here, welcome and thank you so much for stopping by!
I began this blog back in March of 2010, completely on a whim. I had no idea what I was doing or if anyone would ever really read my words but I just kept hearing a whisper from God telling me to share my story of loss, battle with grief, journey in healing, and rebuilding of life.
And although I do still blog about my experience with that horrible monster of grief from time to time, this has mostly become a place for me to just be me and to share the moments that make life beautiful, messy, frustrating, or just downright hilarious.
I should tell you right up front that I talk about my adopted wiener dogs a little too much, have
been known to cry over the death of a fish, say y'all more than I probably should and definitely overuse the ellipsis [...]. I can't help it. It's just who I am...
I suppose you could say
I'm sentimental and sappy
But my nature and my spirit
are always drawn to happy
I know that life can be hard
But laughter's a great healer...
By that one, I will swear
Laughter, plus an outlet...
The thing that makes you tick
You know it when you find it
For me, it was hearing the keys click
The thoughts, the feelings, the pain
that seemed to free me as they came,
appearing as tangible...as real
as the letters in my name
Everyone has a story inside them...
This is where I share mine
And y'all are more than welcome to join me
as I dot dot dot every other line!
Thanks for visiting and have a wonderful day! :)